Kyiv Heart Institute
Diagnostic, Coronary Artery Treatment, Cardio Surgery, Heart Bypass, Heart Transplantation, Open Heart Surgery, Mitral Valve Repair, Stenting, Catheter Ablation Procedures.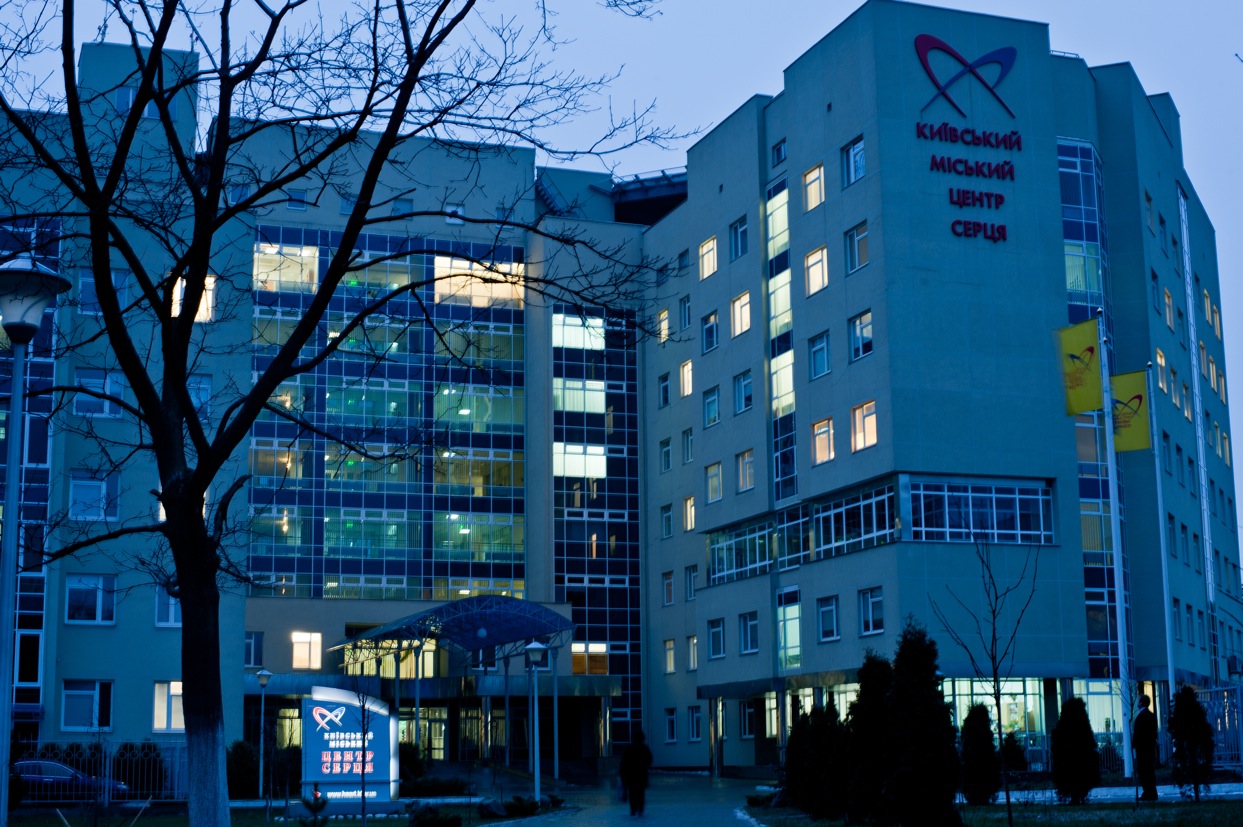 Top Cardiology Center in Eastern Europe internationally accredited (BUPA Quality Survey, QHA Trent -UK). Extensive experience in working with local and international patients as well as with various health insurance and assisting companies. 155 beds, 5 surgery theaters, VIP services.

QHA Trent Certificate (UK)
BUPA Quality Survey Certificate
Monthly procedures
Coronary ventriculography – 160 procedures
Artery stenting – 50 procedures
Heart surgery – 150. Of them adults – 80% of the children – 20%.
Adults – 55% of coronary artery bypass grafting
35% of prosthetic valve, 10% mixed
Pacemakers installment – 20
Catheter ablation – 10
PRICES
Heart Valve Repair surgery including rehabilitation program (12-14 days) would cost here about  7200 GBP
Angioplasty surgery – 2950 GBP
Heart Bypass Surgery CABG price – 7880 GBP
Angiography 550 GBP
Stenting price (with 1 stent, incl angiography and hospital stay 3 days) -3455 GBP
Cardiac Services
Kiev's Heart Institute performs  cardiac procedures for all aspects of the diagnosis, management and treatment of heart conditions for adults and children as well.
Following conditions are being treated at the hospital
 Heart attacks 
 Myocardial Infarction 
 Mitral valve prolapse 
 Arrhythmias 
 Mitral stenosis and insufficiency 
 Aortic stenosis and insufficiency 
 Aortic disease 
 Congestive heart failure 
 Atrial fibrillation and flutter 
 Coronary artery disease 
 Hypercholesterolemia and risk factor modification 
 Heart disease symptoms including angina, shortness of breath and palpitations. 
 Vascular disease 
Cardiac Diagnostics
Kiev Heart Institute provides a range of diagnostic tests designed to assess the structure and function of the heart.
These include:
Electrocardiogram (ECG – heart tracing)
Angiography (coronography)
MRI (3 Tesla)
(Ambulatory ECG recorded over 24/48 hour period)
Event recording (recording rhythms of heart)
Exercise Tests (tracing recording during a measured piece of exercise)
Echocardiography (measurement of the structure and function of the heart chambers and valves)
Tilt Test (to assess causes of faintness of dizziness)
Duplex scanning
Cardiology
 Kyiv Heart Institute is one of the Ukraine's leading centres in coronary angiography, angioplasty and stenting, undertaking high volumes with a lower complication rate than other peer group hospitals.
The Heart Institute is Ukraine's  leading centre for intervention in structural heart disease including closure of septal defects and transcatheter treatment of valve disease. Kyiv Heart Institute has a very good reputation in offering transcatheter aortic valve implantation (TAVI), a procedure for patients with high risk of aortic valve disease.

Electrophysiology and HiTech
Kyiv Heart Institute is a leading centre for Electrophysiology (EP). This rapidly developing area uses the latest 3D mapping equipment and is the fastest growing cardiology services internationally available including the Kyiv Heart Institute. 3 Tesla MRI is available at the hospital with latest software. Hospital is largely using latest Hi Tech in implantation, including pacemakers, biventricular pacemakers and implantable defibrillators.
Cardiac Surgery
Ukraine's leading and largest specialist providers of cardiac surgery including Coronary Artery Bypass Grafting (CABG). Cost of a CABG surgery at the hospital would be about 7450 USD all included.
Kyiv Heart Institute is one of the Ukraine's finest and largest valve repair/replacement centers.
At the hospital is also performed general and bariatric surgeries,  joint replacement surgeries, complete check-up and other procedures.
Most common procedure patients are looking for at our hospital – are stenting, CABG, valve replacement, angioplasty.
Medical Experts
Todurov Boris M
CEO, Head Surgeon at Health Ministry of Ukraine, Member of National Academy of Medical Science of Ukraine, PhD, Honoured MD of Ukraine.
Olga Yepanchintseva 
Head of Diagnostic Deppartment, Нigh qualification cardiologist, MD, PhD
Valeriy Kundin

Head of  Nuclear Medicine Department,
MD, PhD
Head of Kyiv City Association of Nuclear Medicine, Member of Presidium Ukrainian Association of Nuclear Medicine.
Work experience in the nuclear medicine – 26 years.
Specialist of nuclear medicine, ultrasound diagnostic, radiation therapy. The main scientific and practical activity: nuclear medicine in cardiology, uronephrology, pediatrics and oncology.
Author and co-author of 200 scientific articles.
Gavril Kovtun
Pathology of the myocardium and Transplant Department
Head of department
Myroslav Glagola
Acquired heart valvular disease Department
Head of department
Andriy Khokhlov
Interventional, Endovascular and Angiography Department
Head of department
Olexandr Shevchenko
Coronary Treatment Department
Head of department
Mykola Goncharenko
Anesthesiology Department
Head of department
Irina Aksyonova
Pediatric department
Heart surgery Head of department
References
"I visited the Kiev Heart Institute in October 2013 and conducted an essentially unscheduled preliminary site inspection. I was able to meet briefly with the medical director and senior hospital executives. I also spoke with several physicians and patients throughout the hospital. I am confident that the care and professionalism at this hospital is adequate to meet the needs of cardiac patients with advanced or complicated cardiovascular conditions as well as those in need of orthopedic surgery with underlying concomitant cardiovascular disease. It should be considered the Regional Center of Excellence within Ukraine."
–Maria K Todd, MHA PhD
CEO, Mercury Healthcare International, Inc.
Denver, Colorado USA
Kiev Heart Institute
+38 050 6824229
+38 098 3008800
+38 044 2916131
Kiev, 02660, Bratislavska str 5A, Ukraine